Our

P

arties

are the best around!! Birthday Fun
AND

a Life Lesson...Who Knew??
Pizza Parlor! Breakfast Bonanza! Princess Tea Party! Cupcake Challenge! Minecraft Madness!
Spring dates are booking fast!
Knife Skills

Classes!
Using a knife in the kitchen is one of the most important skills your child can learn! Age appropriate classes this week will cover safety, various knives and their uses, ways to hold and cut with a knife, cutting board topics and avoiding accidents.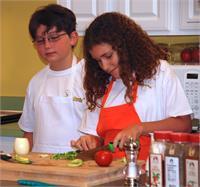 SCHEDULE
Upcoming Weekly
Classes
| | |
| --- | --- |
| Week of: | |
| | Knife Skills! |
| | Easter Edibles! |
| | Mama's Meatballs! |
| | Marvelous Muffins! |
N

ight of:

Harry Potter!

(Full)

Cloudy With a chance
of...Pasta!

Hawaiian Luau!

Harry Potter

(New Date!)

Jungle Jamboree!
Great camps during the long Spring Break! Cookie Pops! Breakfast Basics! Baking Essentials! Fresh and Fruity!
Check out all our great summer camps for 2015! Longer mini camps! Morning and afternoon sessions! Friday challenges! Lots more!!






We're happy to present our 2015

March - Early May Schedule

and other events into March and April! Lot's of classes, Kids Night Outs, Preschool Classes, workshops camps and more!
"

Hannah had an absolute blast on Friday. What a unique

and wonderful opportunity for the little ones!

We're already looking forward to next Friday."

"I'm sitting here watching my almost

4 yr old son have a blast making cookies!"

"Avery had so much fun! She can't

wait to do another class!"

"Taylor loved it! She hasn't stopped

taking about it all day!"

"Today was a great experience for the kids

(and grams too). We had a pizza and

cinnamon roll feast when we got home.

Thank you Bakers Buzzin!!!"

"Those look like some happy kids!"

"I had so much fun with Adelle at this class.

I would recommend Bakers Buzzin to everyone.

A memory I will cherish forever and I plan

on more classes!!"

"Dylan had a great time and is

looking forward to next Friday!"