Our

P

arties

are the best around!! Birthday Fun
AND

a Life Lesson...Who Knew??
Pizza Parlor! Breakfast Bonanza! Princess Tea Party! Cupcake Challenge! Minecraft Madness!
Summer dates are booking fast!
Cinco De Mayo!


Fresh Salsas and Guacamole! Cutting skills! Spices! It's a great way to celebrate the upcoming Cinco De Mayo holiday! come join us!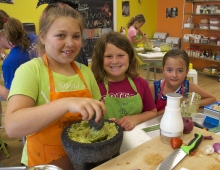 SCHEDULE
Upcoming Weekly
Classes
Week of:

Pasta Perfection!

Cinco De Mayo!

Mother's Day
Workshops!
N

ight of:

Hawaiian Luau!

Harry Potter

Jungle Jamboree!
Check out all our great summer camps for 2015! Longer mini camps! Morning and afternoon sessions! Friday challenges! Lots more!!






"

Hannah had an absolute blast on Friday. What a unique

and wonderful opportunity for the little ones!

We're already looking forward to next Friday."

"I'm sitting here watching my almost

4 yr old son have a blast making cookies!"

"Avery had so much fun! She can't

wait to do another class!"

"Taylor loved it! She hasn't stopped

taking about it all day!"

"Today was a great experience for the kids

(and grams too). We had a pizza and

cinnamon roll feast when we got home.

Thank you Bakers Buzzin!!!"

"Those look like some happy kids!"

"I had so much fun with Adelle at this class.

I would recommend Bakers Buzzin to everyone.

A memory I will cherish forever and I plan

on more classes!!"

"Dylan had a great time and is

looking forward to next Friday!"